Sale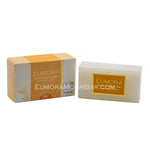 Share with friends


30-Days Money Back Guarantee


30-Days Money Back Guarantee
Features

Brightening

 

: Boost radiance with Vitamin C's revered powers of illumination.

 




Anti-Oxidant

 

: Neutralises free radicals while

 

regenerating and

 

repairing skin cells.

 

Anti-Aging

 

: Vitamin C boosts collagen and wards off signs of premature aging.

 

"Turbo" booster (HMA)

 

: Ensure fast results.

 

Hypoallergenic

 

: Harmonize with and benefit all skin types and ages.

 

Description

This natural cleansing bar goes beyond making sure you feel and smell fresh. We took our body bar further and infused it with HMA (Hydration MicroAlgae) and Vitamin C. As a potent antioxidant known for fighting free radicals, regenerating and repairing damaged skin cells, Vitamin C is a game-changer for your skin. Eumora effectively refreshes and nourishes your skin after use. It has an irresistibly luxurious lather that actively cleans your body, leaving your skin feeling smooth and softer than ever before.

Ingredients

HMA (Hydration MicroAlgae)

HMA is formulated and derived from microalgae cultivated in the fresh water lakes. With a unique concentration of natural active ingredients, extracted from the essence of microalgae, HMA is an effective hydrating agent. It has deep and lasting moisturizing effects while strengthening the defense qualities of the hair, thus giving extraordinary softness and shine.

Vitamin C


Vitamin C is Vital Inside AND Out - You've been told that Vitamin C is important for your body. You take it to fight off and prevent sickness. Just like inside your body, it's ideal for your skin, too. Because Vitamin C fights off free radicals, topical application of antioxidants do the same for your skin by fighting off everyday damage from UV rays and exposure like air pollution. Vitamin C essentially triggers the skin to heal itself. 

Ingredients

Sodium Palmate, Sodium Palm Kernelate, Aqua, Palm Acid, Glycerine, Sodium Chloride, Palm Kernel Acid, Tetrasodium EDTA, Tetrasodium Etidronate (HEDP), Polyethylene glycol, Glycerin, Olea Europaea (Olive) Oil, Isopropyl Myristate, Ascorbic Acid, Water (Aqua)-Glycerin-Algae Extract-Polyglucoronic Acid, Anthemis Nobilis Flower Extract.

Application

Directions To Use

Wet your body. Put Eumora™ Bath & Body Bar on your hands to create a thick lather. Apply gently onto skin. Rinse clean with water and enjoy your healthy shine!

Product Suitability

Eumora™ Bath & Body Bar is made from naturally-derived ingredients and is suitable for both men and women, children and adults and for all skin types (e.g. dry and oily skin)

Product Usage Duration

A box of Eumora™ Bath & Body Bar (75g x 1) will last up to 3 months. Our body bars are perfect for your gym and travel bag and are easy to travel with.

To make your body bar last a long time, keep it dry in between uses and keep away from direct streams of water. Never wet the bar, just lather it dry on wet hands, to ensure that it lasts longer. During travel, pat dry your bar with a paper towel after use and allow it to dry fully before storing in your travel tin. Keep the bar dry on one of our soap trays, away from the shower.
Choose Sustainability — Choose EUMORA
Natural Product

We care about how our product is made. EUMORA is made from 100% natural ingredients - Austrian Heilmoor Clay, HMa (Hydration Micro-algae). 

Zero Plastic

No plastic jars, bottles and containers! We only use recyclable paper packaging for our Moor Bars.

Not Tested on Animals

We never test our product on animals, and we never will. EUMORA is (and always has been) 100% cruelty free. 

Recyclable Packaging

You receive your order in a biodegradable and recyclable padded envelope. No plastic bubble wrapper or shredded paper.
Massage a Thick Lather Gently Onto Skin, Leave On for 3 Minutes
watch the video to find out more
Customers from All over the World
tell us about their experiences with Eumora
Sophie Cobell

25.01.2020

I have used Eumora Moor Bar soap for a month now,the result is amazing,my skin feels tight, smooth and my skin tone is even. Thanks Eumora!

Read

Marcia Scott

11.10.2019

Since I have been using this product I have no wrinkles on my face, no dark spots. I can truly say it's the best soap I have used on my face. Excellent product. From a very satisfied customer. This will be my facial soap for a lifetime.

Read

Susan Pagett

07.10.2019

Love it expensive but lasts. wakes your skin up looks radiant I have repeat purchased.

Read