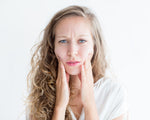 Dry skins are lacking in the skin's natural lubricant, known as sebum. This substance is produced by the sebaceous glands, but the activity of these glands does slow down with age.
Dry skins also lack the ability to retain moisture effectively. To help preserve this moisture-retaining barrier, avoid using cleansers with harsh chemicals to wash your face. The soap will heighten moisture loss and the constant wetting and drying of the skin can step up dryness. Use a cream or oil cleanser twice a day if required.
Toners are not necessary, but rose water is suited to dry skin and can be used instead of cleanser to wipe over the complexion in the mornings. Look for a rich moisturizer, which is easily absorbed and doesn't leave a greasy film on the skin and use a special night-care preparation. Steer clear of harsh exfoliators and use hydrating face masks regularly.
Eumora first works on healing the skin, which may cause some dryness. This detoxification period, or "healing crisis," is extremely effective at releasing the impurities under the skin and is a good indication that the product is working. The duration of the "healing crisis" varies from person to person, but this special formulation ultimately brings balance to any skin type, including dry skin. 
You will definitely see further improvement over a longer period of time. This is only because Eumora is more skin health than skin care. Eumora works inside out and not just on the outside. It nourishes your skin because of the moor mud. We recommend to use with a gentle moisturizer, and reduce usage to once a day.


Your 100% Natural Skin Makeover