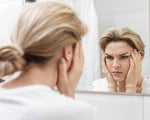 Some of us spend just 30 seconds in front of the mirror every morning, while others have a complicated ritual that can take an hour (or more!).
No matter your preference for either the quick, complex or the in-between, almost everyone has a skincare routine.
Even though we all have the best intentions to take good care of our skin, some of us may be unknowingly sabotaging our efforts.
To find out if your routine consists of a beauty-nullifying flaw, here's a checklist of common but deadly skincare mistakes. 
NOT USING PRODUCTS FORMULATED FOR YOUR SKIN TYPE


Common skin types include dry, normal, combination and oily. Each skin type requires a different approach to keep unwanted ageing effects at bay.

Some telltale signs of using the wrong skin care products are peeling, excessive dryness, stinging, rashes and breakouts.

When that happens, change your product immediately before more damage is done!

Many skin care products in the market today are overly harsh, filled with potentially harmful man-made acids and chemicals.

The fastest and easiest way to get the skin care results you want, without the risk of ruining your complexion, is to use an all-natural product suitable for all skin types.



NOT APPLYING SUNSCREEN 365 DAYS A YEAR


We all know the skin-damaging ageing effects of UV rays. But do you know that 78% of those rays come from what is termed as "incidental exposure"

There are times when you think that you're safe from UV rays. Like when you're chilling at home, working in your comfy air-conditioned office, or taking a walk outside on a cloudy day.

So here's the (perhaps) shocking truth: UV rays are still present during those innocuous moments, and your skin is still being exposed to its damaging effects.

That's what incidental exposure means.

To ensure you're always fully-protected, the safest way is to apply sunscreen every day without fail, no matter your activity.

Either that, or use a proven and potent "skin protector" that rejuvenates and removes ageing effects almost instantly.



WASHING YOUR SKIN WITH UNSUITABLE SOAPS


Even if you paid lots of money for so-called designer soaps, washing the sensitive skin on your face with it is a big no-no!

That's because most soaps have a high pH, which make them too dry for most skin types (even oily skin).

Using them on your face immediately strips the skin of all its water, creating an unwanted buildup of dead skin cells.

They also reverse the benefits of any exfoliants, such as facial scrubs, you may be using. In this case, less is definitely better.

Instead, look out for pH-neutral facial enhancements that can bring balance to your skin, and clear up undesirable effects like wrinkles, acne and crow's feet.
INTRODUCING YOUR ALL-IN-ONE SOLUTION TO RID YOURSELF OF DEADLY BEAUTY MISTAKES...
The Eumora 'Miracle' Bar is a pH-neutral, all-natural facial bar that gives your skin a natural glow and reduces the skin age on your face.
Key ingredients in the Eumora 'Miracle' Bar include HMA (Hydration Micro Algae), Moor Clay and Shea Butter; long heralded as nature's gift to restore and retain long-term youth.
The Eumora 'Miracle' Bar is the 1st skin enhancement solution that has successfully integrated these ingredients into an easy-to-use facial bar, making it the most sought-after beauty product in the world.
Many Eumorians (our happy clients) told us that after using the Eumora 'Miracle' Bar, they've chucked all their other products into the trash!
Your 100% Natural Skin Makeover