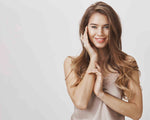 No matter how well you have started the new year, you won't go wrong by showing your skin a little extra love. Start the new year off right by truly caring for the skin at all angles and not just on the outside. Here are five ways to kick-start this new year:

1. Show your skin some Tender Loving Care (TLC).
When caring for your skin, you likely just think of working on the outside, such as slathering on a brightening face mask. True love for your skin also requires working it inside out. Feed your skin the right way and you will have youthful and radiant skin at any age!
Eumora has the exact ingredients to give your skin cells a treat. This is only because Eumora is more skin health than skin care. Eumora works inside out and not just on the outside. It nourishes your skin because of the moor mud. Especially in dry climates, we recommend to use with a gentle moisturiser. 
Eumora cleanses effectively without harming the skin because it is one of the very few pH-neutral facial bars in the world. And of course, the secret to everything in Eumora is our Hydration MicroAlgae (HMA) factor.

2. Massage your face.

Massage boosts circulation and the production of collagen, which helps keep your skin firm and tight. It can also help your product ingredients penetrate deeper into the skin, nourishing every skin cell.
Always use clean hands and gentle pressure. Apply a thick lather of Eumora (or serum, oil, moisturizer), then move your finger tips upward or outward toward your ears and temples. You can also massage in circular motions along your jawline area.

3. Try a DIY eye treatment.
You are what you eat. Feed your skin the right way and you will shrink puffy eyes and energize the skin around the eye area. Try one these easy treatments:
Cut a clean cucumber into slices and lay them on your eyes for 10 minutes.
Cut a raw potato into slices, soak them in water, and place them on your eyes for 10 minutes.
Puree a banana and rub the goop under your eyes for about 10 minutes.

4. Practise skin affirmations.
If you're prone to critical self-talk, start a skin gratitude practice before beginning your routine.
Affirmations help you to empower your skin and lower that psychological stress. Stress can contribute to skin inflammation, dullness and fine lines. Positive phrases like, "I'm grateful my skin keeps me protected from pollution"; "I'm grateful my skin looks glowy after a full night of rest"; or "I'm grateful my blemishes are responding to my new product." can help you shift your mindset.
Try writing your affirmation on sticky notes and placing them in helpful locations like the bathroom mirror or refrigerator.
The steps you take today will enhance your skin health in the long run.

5. Simplify your beauty routine.
Having less is more.
Start off simplifying your routine by clearing out products you haven't used in a while.
Then, choose products that do double, or even triple duty like Eumora. Our products serve multiple uses so you can simplify your personal care routine.
For example, our multitasking Mask Bar with Shea Butter takes care of all your facial needs. No need for toners, cleansers, moisturizers or other facial care products!
In fact, Eumora is good to use all over the body, especially if you can leave it on for at least 3 minutes. Many people are using it for their bodies.

The takeaway.
Kick off the new year by showing your skin some TLC with these easy steps. By truly tending to your skin inside out and not just on the outside, you will have youthful and radiant skin all year round.
Tell us… how did you start off the new year? Are you now inspired to start off right?


Your 100% Natural Skin Makeover