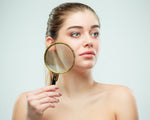 Combination skin is typified by oily areas around the nose, chin and forehead, and dry patches on the cheeks. You don't need to splash out on numerous skincare products to treat the different areas, but be aware of how you use the preparations.
Cleanse twice a day using Eumora's gentle and natural cleansing bar (which will dissolve the skin's build-up of excessive sebum), massaged into the oily areas and lightly worked over the rest of the face. Apply moisturizer, avoiding the central strip of the face which will receive sufficient hydration from within. Alternatively, use an oil-free moisturizer.
Sometimes, combination skin can be caused by using harsh preparations that disrupt the normal balance of the skin and this is known as seborrheic hyperplasia. In this case, readdress the balance by using mild skincare preparations. When your skin has had a chance to rebalance, you will probably find you have a completely different skin type.


Your 100% Natural Skin Makeover