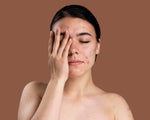 Characterized by sebaceous glands which are overactive, oily skin can affect women of all ages. Normally, the production of sebum peaks during puberty and settles after these years but stress, hormonal changes and harsh skincare preparations can step up the activity of the sebaceous glands later in life.
Oily skin will age well as the skin will always be well hydrated. To keep oil secretions at bay, cleanse the skin thoroughly using an oil or gel cleanser. Overzealous cleansing can set up a reaction, known as seborrhea, where the oil glands work overtime to compensate for the loss of natural oils.
Products that leave the skin feeling taut and dehydrated should also be avoided as they cause the upper layers of the skin to shrink. This restricts oil flow through the pores, resulting in blocked pores and break-outs. Use oil-free moisturizers and shine-control products under make up.
If your oily skin is driving you crazy, there's good news – those with oily skin types tend to have more moisture in their skin, making them less prone to premature wrinkles. The key is to keeping the oiliness of your skin under control so you can put your best face forward. EUMORA is the skincare secret weapon perfect for those with an oily skin type.


Your 100% Natural Skin Makeover