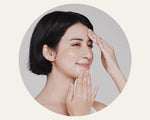 Lather Up
A good cleanser should shift oil, make-up, impurities and dead skin cells, but will not leave a residue on the skin as this can lead to blocked pores. Avoid ordinary soap and water. Many soaps are highly alkaline and can upset the skin's naturally acidic protective film, making them too harsh and drying for delicate facial skin. Opt for pH-neutral Eumora cleansing bar, face wash, cleansing milk, lotion or cream.
The Right Choice
Find a cleanser to complement your skin type. Dry skins are best suited to cream or milk cleansers (which are rich in emolients and leave a hydrating film on the skin). Oily skins benefit from water-soluble gel cleansers (which are virtually oil free) or oil-based cleansers (which dissolve sebum). Treat sensitive skins with fragrance-free soothing milks or lotions or gel formulas (they are less alkaline than soap and do not leave a residue on the skin). Normal skins need a wash-off cleanser in the mornings and a cream variant in the evenings.
Over cleansing
If your skin feels taut or very dry after cleansing, it may be an indication that the preparations you are using are too harsh. Over cleansing oily skin can actually accelerate oil production. If you use harsh cleansing agents which strip the skin's natural oils, the sebaceous glands will go into overdrive to compensate. To avoid drying out the skin, cleanse thoroughly at night and then splash with water in the mornings or sweep cotton wool doused with toner over your complexion.
Water Works
When you wash your face, make sure the water is tepid. If the water is too hot, it can leave a drying effect on the skin and can disrupt the skin's natural barrier function, leading to heightened sensitivity and the appearance of broken veins on the delicate areas of your face. After washing off a cleanser, always splash your skin with cold water. This is a great pick-me-up in the morning and also jump-starts the skin's circulation.


Your 100% Natural Skin Makeover