Sale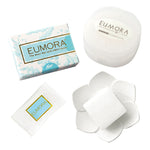 Share with friends


30-Days Money Back Guarantee


30-Days Money Back Guarantee
Features

Give yourself younger skin and brighter lift with our deep cleaning facial cleanser. This mask bar restores skin health from inside out with just a 3-minute application daily.

Bundle Set Includes:

✔ Eumora Moor Bar (Worth $48.00)

✔ Eumora Mini Moor Bar
 (Worth $9.60)


✔ Eumora Soap Tray
 (Worth $4.90)

✔ Eumora Travel Soap Box (Worth $4.90)

✔ Free Delivery (Worth $10)

Total Savings > $50 (Compared to Ala Carte)

Description

This Sensational Moor facial bar is infused with the exclusive Hydration Microalgae Factor (HMA) and enriched with shea butter to give you better skin hydration in a bigger sized bar for longer-lasting use.

In as little as 3 minutes, you're on your way to healthy, beautiful skin. Use Eumora™ every day to clear your skin problems and add a healthy glow to your skin. Feel the gentleness of Eumora™ while it cleanses, actively tones, soothes and moisturizes the skin for a brighter, refreshed result. Our miracle facial bar is formulated in Singapore with ingredients 100% imported from Europe, Japan and Africa to give you an organic skincare routine that works wonders!

Ingredients

Moor Clay


It is a mysterious youth bestowing formula that comes from the underground of European countries. Numerous independent studies conclude that Moor helps shield our skin from environmental damage, improves the appearance of fine lines and wrinkles, helps reduce dryness and smoothens skin texture.

HMA (Hydration MicroAlgae)

HMA is formulated and derived from microalgae cultivated in the fresh water lakes. It includes a component that is similar to the structure of hyaluronate 3D mesh structure, which aids in moisture absorption. With a unique concentration of natural active ingredients, extracted from the essence of microalgae, HMA is an effective hydrating agent. It has deep and lasting moisturizing effects while strengthening the defense qualities of the skin barrier, thus giving extraordinary softness and brightness. HMA doesn't irritate, and it provides moisture for all types of skin in all climates.

Shea Butter

Shea butter is extracted from the nuts of shea trees found in Africa. For centuries, it has been a prized cosmetic asset due to its high concentration of vitamins and fatty acids, which serve as a wholesome way to moisturize the skin. When shea butter is applied, the fatty/healthy content like linoleic, oleic, stearic and palmitic acids are rapidly absorbed by the skin. They act as "refatting" agents, restoring lipids and creating moisture almost instantly. Best of all, unlike other similar products, shea butter won't make the skin oily because the linoleic and oleic acids balance each other out. This means that shea butter provides all the benefits of a moisturizing agent, without any side effects whatsoever!

Ingredients

Disodium Lauryl Sulfosuccinate & Sodium Coco-Sulfate & Triticum Vulgare (Wheat) Starch & 1-Octadecanol & Paraffin & CI 77891, PEG-10, Glycerin, Heilmoor Clay, Olea Europaea (Olive) Oil, Isopropyl Myristate, Butyrospermum Parkii, Water (Aqua)-Glycerin-Algae Extract-Polyglucoronic Acid, Anthemis Nobilis Flower Extract

Application

Directions To Use

Wet face and palms with clean water, create a thick lather between palms with the Eumora™ bar, apply onto skin and massage gently, leave on for 3 minutes or more for the lather to be absorbed by the skin and rinse off with water. Apply moisturizer, if so desired. Always store Eumora™ in a dry place.

Product Suitability

Eumora™ beauty bar is made from all-natural ingredients and is suitable for both men and women, children and adults and for all skin types (e.g. dry and oily skin)

Product Usage Duration

Based on twice-a-day usage on the face, the full bar (35g) will last between 30 and 40 days. So a box of Eumora™ (35g x 3) will last anywhere from 4 to 6 months. Lastly, note that Eumora™ beauty bar takes care of all your facial needs. No need for toners, cleansers, moisturizers or other facial care products!
Choose Sustainability — Choose EUMORA
Natural Product

We care about how our product is made. EUMORA is made from 100% natural ingredients - Austrian Heilmoor Clay, HMa (Hydration Micro-algae). 

Zero Plastic

No plastic jars, bottles and containers! We only use recyclable paper packaging for our Moor Bars.

Not Tested on Animals

We never test our product on animals, and we never will. EUMORA is (and always has been) 100% cruelty free. 

Recyclable Packaging

You receive your order in a biodegradable and recyclable padded envelope. No plastic bubble wrapper or shredded paper.
Massage a Thick Lather Gently Onto Skin, Leave On for 3 Minutes
watch the video to find out more
Customers from All over the World
tell us about their experiences with Eumora
Sophie Cobell

25.01.2020

I have used Eumora Moor Bar soap for a month now,the result is amazing,my skin feels tight, smooth and my skin tone is even. Thanks Eumora!

Read

Marcia Scott

11.10.2019

Since I have been using this product I have no wrinkles on my face, no dark spots. I can truly say it's the best soap I have used on my face. Excellent product. From a very satisfied customer. This will be my facial soap for a lifetime.

Read

Susan Pagett

07.10.2019

Love it expensive but lasts. wakes your skin up looks radiant I have repeat purchased.

Read