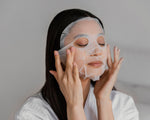 For the best results, try slathering on a face mask after steaming your face. If you do not have time to steam first, press a very hot face cloth over your skin to prepare it for the application of a mask. Find an appropriate mask to suit your skin's requirements.
Gel masks contain polymers which form a light film when they dry. Ideal for younger skins, they gently cleanse and exfoliate the skin.
Peel-off masks form a coating once they set. They temporarily increase the skin's moisture content, but do not deep cleanse the skin. They are recommended for revitalizing the dull and lifeless complexions.
Clay and mud masks deep cleanse the skin as they contain active ingredients which absorb impurities. These masks are suitable for all skin types and can be used monthly to deep cleanse or weekly to treat congested skins.
Sulphur masks are ideal for treating blemished complexions and acne, but do not use them if you have sensitive skin.
Exfoliating masks will revitalize dull skins and are a good alternative to manual scrubs which can be a little abrasive.
Rich hydrating masks will treat dry, thirsty and mature skins as they leave a hydrating film on the skin's surface.
Apply a face mask while you are in the bath then relax while it gets to work, or lie down and put a pillow under your feet so they are raised and place two cold chamomile tea bags on your eyes. Do not use tissues to remove masks that are not water soluble as they can scratch the skin's surface.
Instead, use a damp muslin cloth, soft face cloth or damp cotton wool. Always use tepid water to remove a face mask and finish by splashing your skin with cool water and applying a moisturizer. Ideally, you should not apply make-up for several hours after a face mask.


Your 100% Natural Skin Makeover