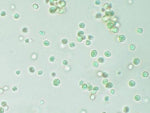 HMA stands for Hydration MicroAlgae. Eumora's HMA is extracted from the essence of Haematococcus P. and Chlorella S cultivated in the Hawaiian fresh water lakes.
Haematococcus P. and Chlorella S. are microalgae species that do not produce toxins and actually provide a wide array of nutritional elements, including vitamins, macro minerals, trace minerals, essential fatty acids, protein, nucleic acids (RNA and DNA), chlorophyll, etc. Due to their high nutritional content and health benefits, they have been hailed as super foods and sold as health supplements.
In addition, Haematococcus P. and Chlorella S. range in size from 2 to 8 microns (about the same size as a human blood cell) only and yet provide the highest concentrations of protein and beta-carotene (pro-vitamin A, an anti-oxidant) of any foods and supply various micronutrients.
How HMA Enables More Radiant and Youthful Looking Skin
HMA includes a component that is similar to the structure of hyaluronate 3D mesh structure, which aids in moisture absorption. With a unique concentration of natural active ingredients, extracted from the essence of microalgae, HMA is an effective hydrating agent and can help in strengthening the mechanisms of skin defence. It has deep and lasting moisturizing effects while strengthening the defense qualities of the skin barrier, thus giving extraordinary softness and brightness.
On top of that, HMA contains these wonderful properties that revitalize and replenish the beauty of your skin:
HMA enables the minerals, nutrients and ingredients to be absorbed deep into the dermis of the skin
HMA is rich in Vitamins B1, B2, B12 and niacin which can increase our skin cells' energy and protect the cells from environmental damage
HMA doesn't irritate and it provides moisture for all types of skin in all climate
In both clinical and laboratory tests, when this powerful ingredient was applied directly to the skin, it went to work in an amazingly short time to help restore the vital vibrancy of dull tired skin, restore fresh youthful beauty and end that dull aged appearance of lines, wrinkle and crow's feet once and for all!
Your 100% Natural Skin Makeover