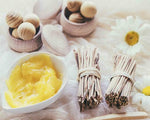 Is Shea Butter another kind of butter?
Shea Butter is technically a tree nut product, which contains high levels of linoleic acid and oleic acid, and these two acids balance each other out, meaning it is easy for all skin types to fully absorb. Shea Butter is moisturizing and its antioxidant properties work together to help your skin generate healthy new cells.
There are many more benefits of Shea Butter but where do all these benefits come from? It comes from its chemical makeup as it contains the following :-
Triglycerides, the fatty part of the Shea Butter nut that nourishes and conditions your skin,
Cetyl esters, the waxy part of the Shea Butter nut that conditions skin and locks in moisture,
Vitamins A, E and F, antioxidant vitamins that promote circulation and healthy skin cell growth,
Linoleic, palmitic, stearic and oleic fatty acids, ingredients that effectively balance oils on your skin.
There are many reasons why Shea Butter is used as a cosmetic ingredient for centuries.
Its high concentration of vitamins and fatty acids, combined with its easy-to-spread consistency, makes it a great "ingredient" for soothing, smoothing and conditioning your skin.
It is safe for all skin types.
It is particularly moisturizing, due to Shea Butter's fatty acid content, including linoleic, oleic, stearic and palmitic acids. These oils are rapidly absorbed into your skin. They act as a "refatting" agent, restoring lipids and quickly creating moisture, thus restoring the barrier between your skin and the outside environment. And it would NOT make your skin look oily or feel oily, as Shea Butter is easy for your skin to fully absorb.
Shea Butter's anti-inflammatory components also help soothe skin and relieve itching. This may prove especially helpful for inflammatory skin conditions, such as eczema and psoriasis.
Now you know why we need Shea Butter to be part of our skin health regime... Eumora, with added Shea Butter…… it's BETTER!
Your 100% Natural Skin Makeover