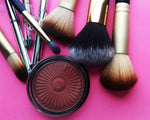 As you age, your skin will age at the same time. But there's a way to make your skin look younger –the type of make-up that you use and how the make-up is applied on your skin. In addition to completing the basics for a healthy skin such as having a healthy diet, taking in a lot of water and exercising regularly, you should consider using the following make-up techniques to look 10 years younger.
Creams, Not Powders
Patting a lot of powder, be it pressed powder or blush, may absorb the oil and reduce shine on the skin. However, as your skin ages, it is good to have some "shine" on the skin. You can achieve moisture-rich look of youth with cream instead, to give you a luminous and translucent look which you used to cover up with powder.

It is also highly unlikely for cream blushes, eye shadows and other types of make-up to settle into the wrinkles and lines on your face, as creams have a more smoothing effect. The facial lines tend to stand out more when powders are used, and will look like cracks on your skin.
If You Do Use Powder...
It is recommended by professionals to avoid using the pads that come with a pressed powder. Instead, use a soft and fluffy brush to apply powder to aging skin. This can give a more translucent quality because face powder, loose powder blushes and bronzers work best with a brush. One good option for older skin is to use powders with luminescence or "shimmer.
Moisturiser
Moisturiser is said to be a very important factor to help achieve a "dewy" look to the skin and to plump up wrinkled areas.  An all-in-one moisturiser such as the tinted moisturiser can act as a light foundation as well as moisturise your skin at the same time.
Think "Light"
These days, make-up items such as translucent, low-pigment foundation and translucent face powder are being used for light coverage on mature skin. Gone are the days with applying heavy, caked foundation, blush and mascara. It is recommended to use a shade lighter than your skin tone when it comes to choosing foundation and concealer. Also, choose warm and light colours for blush or bronzer if you would like to add colour and depth to your skin.
Lips
To prevent the formation of "feathers" at the edges of your mouth, it is recommended to use a lip liner when using a lipstick. Your face can look aged and wrinkled as the lipstick may "bleed" up into the fine lines. Use a lip liner as close to the shade of your lipstick as possible.
Do you have other make-up tricks for a more youthful make-up application? Share them in the comments!
Your 100% Natural Skin Makeover