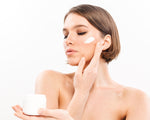 Skin Hydration
Moisturizers add water to the skin and form a protective barrier to prevent essential moisture loss. Skin has a natural moisturizing factor (NMF) that regulates the water flow from the skin's deepest layer to the surface. Sebum also plays a vital role in controlling the moisture content. As we age, both the NMF and sebum production decreases, making moisturizer a must-have.
The Right Choice
Choose a moisturizer for your skin type. Dry skin benefits from richer creams and oily and problem skins from oil-free or water-based formulations. Lightweight hypoallergenic preparations that are free from potential irritants such as fragrance, chemical sunscreens and colorants are best for sensitive skins, and mature skins welcome heavier, emollient-rich hydrators. Normal skins need a good moisturizer with a sun protection filter.
Added Benefits
Before applying moisturizer, spritz your complexion with a fine mist of water. This will instantly plump up the skin cells, creating an even surface and making lines less apparent. The moisturizer will then seal this smoothness in. For an invigorating boost, apply moisturizer with gentle tapping movements to enhance the skin's circulation.
Night Shift
Although you don't need to invest in a specific night cream, many formulations are enriched with ingredients that are designed to work in harmony with the skin's reparative function, which is at its optimum between 11pm and 1am. When applying your moisturizer, always massage some into the neck region. To improve the hydration of the skin, use a facial oil first and then smooth on your moisturizer.


Your 100% Natural Skin Makeover