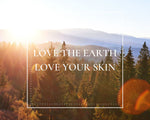 Our beautiful Earth needs care and attention – just like you.
Women are getting serious about saving Mother Nature, and we Eumorians should do our part too. So let's make our beauty routine go green!
Read on to see how you can go green with your skin care with these five easy tips.


1. Simplify
Simplify your beauty regime by making your skin care routine simple. Not only does this saves you money and time, it also reduces waste by reducing the number of products used.
Try opting for a facial cleanser that can be used anywhere. Check that it is safe to be used on your face and near your eyes, but at the same time, you can also use it to soften and protect your hands and neck that are dry.
We suggest Eumora Shea Butter that takes care of all your facial needs. No need for toners, cleansers, moisturizers and other facial care products!
Choose products that are of multi-use instead – rather than using both foundation and concealer, consider giving up one or both. Get to know your natural skin instead.
Finally, buying a large-sized item, once you find something you love, can reduce shipping and packaging.


2. Use Less Water
Use a Cleansing Cloth when you clean your face, instead of letting the water run as you splash your face.
Immerse it with water, turn off the tap, then use it to remove make-up, cleansers, scrubs and face masks off your face.
Not only do you save water, but you actually get better results as you exfoliate dead skin cells away. Join the wash cloth revolution today!


3. Switch To Green Alternatives
Consider switching to reusable options or just use your (clean) fingers if you are still using single-use cosmetic products like cotton balls, cotton swabs or makeup wipes.
You can purchase organic cotton muslin cloths to replace one-time-use facial wipes. These can be tossed in the laundry to wash on a weekly basis, so buy a large enough quantity.


4. Understand the Labels
Do not assume that the products you are putting on your skin are safe.
Take some time to read the label and put down any product that contains phthalates, mercury, toluene, lead, formaldehyde, petroleum distillates, parabens (hormone-disrupting preservatives such as methylparaben, butylparaben, ethylparaben, isobutylparaben, and propylparaben), or BHA. 
These chemicals are detrimental to our health, not to mention the environment and wildlife.


5. Rethink Your Hot Shower
Your skin, your hair and the environment do benefit from cool shower temperature.
In order to prevent natural protective oils being stripped from your skin and hair, it is advisable that shower temperature should never rise beyond warm. If the natural protective oils are being removed, it can result in dry, itchy skin and brittle hair.
Not only does cold, refreshing shower increases alertness and circulation, it also aids in reducing stress and improve your mood by inducing the release of mood-regulating hormones.
Most importantly, you can save energy with cooler showers.
You tend to use less water as lesser time is being spent in the shower.
Both the Earth and you will be happier for it.
Do you have any tips to add to the list? Are you inspired to go green on your skin care? Let everyone know about them in the comments below!


Your 100% Natural Skin Makeover