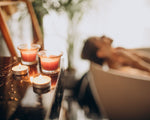 A spa is relaxing and refreshing, especially when we're feeling stressed.
The great news is: You don't need a spa! You can create that soothing spa experience at home with Eumora – on any day of the week.
Read on for step-by-step instructions for this DIY spa that will leave your skin glowing and your heart soaring.
Start with a warm, relaxing shower
Set the "spa scene" by taking a warm, relaxing shower. Wash your hair with the Spa Shampoo Bar to make it supremely soft, shiny and easy to style. Wet your hair and hands. Put the bar on your hands to create a thick lather and apply shampoo foam into hair. Rinse clean with water and enjoy your healthy shine! This shampoo bar gives an instant revitalizing and alluring sensation after use.

Then, wet your body. Put the Bath & Body Bar on your hands to create a thick lather. Apply gently onto skin. Rinse clean with water. This body bar gives an instant refreshing sensation after use, leaving your skin feeling smooth and softer than ever before.
Pamper your skin with a facial cleanse
Next, facial with our Mask Bar with Shea Butter. Wet your hands and face. Rub Eumora on your hands to create a thick lather, apply gently on your face, like putting on an invisible facial mask. Use your fingertips to massage Eumora in circular motions over your face. Eumora cleanses effectively and nourishes your skin because of the moor mud. Moor clay and mud deep cleanse the skin as they contain active ingredients which absorb impurities. 
Exfoliate your skin gently
Leave Eumora on like a mask for 3 to 5 minutes. Our Mask Bar with Shea Butter deep-cleans your pores and gently exfoliates dull skin – so you see fresh, beautiful skin and tighter pores. Then wash it off with a muslin facial cloth to give your skin a gentle exfoliation and to avoid scratching the skin's surface. Fold it or make a kind of a sponge and rub your face and neck gently with it to take Eumora off. Rinse off with tepid water so there is no residue and finish by splashing your skin with cool water and applying a moisturizer.
At the end of your home spa, you will be relaxed and your skin will be glowing. Be sure to drink plenty of water to help flush out toxins and get a good night's sleep.
All told, you can indulge in your home spa treatment as often as you like.
So why not try this spa routine for yourself? Tell us what you think about them below.


Your 100% Natural Skin Makeover