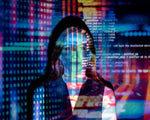 Do you find your skin aging faster this Covid-19?  


You are nodding your head.  


The culprit? Blue light from television monitors, computers and mobile phones.
 
As you spend more time indoors because of the pandemic, exposure to blue light is likely to increase.  


A small but seminal study published in the Journal Of Investigative Dermatology in 2010 found that skin exposed to blue light from the sun experienced darker and more lasting hyperpigmentation, than when the same person's skin was exposed to UVA rays. The study showed that long-term exposure to blue light may speed up the skin ageing process.  


Blue light penetrates deeper than UVA and UVB into the dermis layer, creating free radicals that can break down collagen and elastin, causing inflammation to the skin. This can speed up pigmentation, wrinkles and the loss of skin elasticity. 


Global beauty brands like Estee Lauder have been quick to launch skincare products that claim to offer blue-light protection. 


There is no need to panic and order blue-light protection skincare in bulk, because effects like photoaging occur over a long period of time, it is usually difficult to tell the benefits of these products in the short term, experts say. 


Good news is it is still early to conclude that blue light from digital devices is significant enough to cause serious skin damage. 


Since the effects are most likely to be negative, there is no harm in protecting your skin from blue-light exposure. Here's how:  
1 USE PRODUCTS RICH IN ANTIOXIDANTS 
Use products with antioxidant properties, which have proven benefits in repairing skin damage and reducing skin sensitivity. 
Ingredients to look out for include vitamin A or retinol, vitamins C and E, and niacinamide. 
Moor, found in Eumora, is also known to exert an anti-inflammatory effect on irritated or inflamed tissues. 
2 USE SUNSCREEN INDOORS 
When choosing sunscreen, pick a physical sunscreen instead. 
Physical sunscreens use natural ingredients like zinc oxide to create a barrier between your skin and the sun, while chemical sunscreens absorb the sun's harsh UV rays and prevent them from penetrating your skin. 
3 DOWNLOAD A BLUE-LIGHT FILTER APP ON YOUR DEVICE 
To minimize the exposure to blue light from your screens, use a blue-light filter app to change out the blue light for warm-toned light, reducing strain on both your eyes and skin.
Some smartphones come with timed night mode settings that do the same thing. 
4 TAKE REGULAR BREAKS FROM THE COMPUTER SCREEN 
If you are working from home, take regular breaks from your computer screen.
A good rule to follow is the 20-20-20 rule: For every 20 minutes spent looking at a screen, look at something 20 feet (about 6m) away for 20 seconds. 
5 HAVE A BALANCED DIET RICH IN ANTIOXIDANTS 
As most of the damage done by blue light is oxidative in nature, a diet rich in antioxidants will give you the best chance at combating its effects. 
Eat fruit (rich in vitamin C), green leafy vegetables like spinach (vitamins A and E), and carotenoid-rich food like carrots, tomatoes, kale and pumpkin - though carotenoids should be taken in moderation, as too much of it can cause the skin to look orange. 
6 CHOOSE SKIN HEALTH, NOT JUST SKINCARE 
Eumora Shea Butter Starter Pack (1 x 35g Bar), $24
A multitasking beauty bar that cuts your skincare routine time, lightens dark spots, hyperpigmentation and reduces inflammation caused by blue-light exposure.  
This sensational facial bar also helps to brighten dull skin. 
Available online at eumoramoorbar.com.