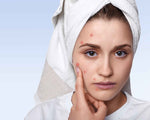 Face masks have become an essential part of our daily wardrobe. But it has caused a widespread skincare problem this year – Maskne. Maskne is a result of wearing masks for a long period of time, causing breakouts on faces.
"Acne mechanica", the professional term for Maskne, is caused by rubbing of fabric against the skin repeatedly, causing irritation on the skin. This is not newly discovered. People who wear chin guards and helmets often are prone to suffering from Maskne. When one wears a mask, sweat, oil and bacteria tend to be trapped on the skin, which provides the perfect condition for breakouts.
 
HOW TO PREVENT MASKNE
1 Wash your face regularly
Wash your face twice a day to cleanse your skin adequately. Do not over-cleanse. In order to retain your skin of its natural oils, it is not advisable to use skin products with sodium lauryl sulfate (SLS). Refrain from over-hydrating as it will cause your skin to generate more oil, thinking that it is dry.

We recommend using a gentle cleanser like Eumora Acne Bar that does not weaken your skin barrier. All ingredients are purely natural and non-irritant, so it takes care of your skin health in the most gentle way as it is pH neutral to our skin. You will notice that the lather feels gentle on skin and doesn't sting while applying.
2 Add on skincare products with antioxidants and anti-inflammatory benefits into your routine
Products that contain elements such as antioxidants and anti-inflammatory help to promote skin barrier and reduce elements that impair skin health.
Vitamin C, Niacinamid, Vitamin E, Resveratrol and plant extracts such as Chamomile Extract are some examples of antioxidants and anti-inflammatory ingredients that are beneficial to the skin.
One such product is Eumora Acne Bar. The Moor contains high proportion of phenol substances and these acts as natural antiseptic. Moor has consistently been found to exert an anti-inflammatory effect on irritated and inflamed tissues.


3 Apply moisturizer
Moisturizer keeps the skin hydrated, helps to prevent the skin barrier from weakening, and also alleviates the chance of suffering from breakouts. Wait for at least 15 mins before you put on your masks, so that the moisturizer is fully absorbed.
As there is a tendency to trap moisture while wearing a mask, it may be advisable to apply serum that is both lightweight and hydrating in the day, then a thicker moisturizer in the night.

4 Skip these ingredients in your skincare
Synthetic fragrances as most of these fragrances contain allergens which can irritate the skin further;
Ingredients like retinol and strong acid peels such as glycolic and lactic acid can cause skin irritation in addition to the irritation caused by the masks on the skin
Comedogenic ingredients cause pores to clog, leading to more breakouts, acne, and pimples.
 5 Wash your cloth mask
Wash cloth masks frequently as dead skin cells and dirt tend to build up inside the masks. Re-wearing of the masks can cause breakouts on the skin due to contact with the dirt, sweat and oil.
HOW TO TREAT MASKNE
Spot treat before it spreads and gets worse
Start to apply products that contain antioxidants and anti-inflammatory ingredients on your skin if you spot redness or irritation on the skin from wearing masks. We recommend using a spot treatment like Eumora Acne Bar. With its antibiotic and astringent properties, Moor Mud is used as a highly effective form of treatment for acne, eczema and psoriasis.